Celebrating the most infamous manager meltdowns in the history of the Premier League. 
One of the enduring images of the 2019/20 Premier League campaign will be Pep Guardiola exclaiming towards the fourth official during Manchester City's 3-1 defeat to Liverpool after Trent Alexander-Arnold had gone unpunished for handling the ball for a second time.
"Twice! Twice!" he shouted at Mike Dean, before looking up to the sky and shrieking "TWICE!!!" once more into the cold November air, presumably at whatever god had wronged him in that moment. Pep followed it up by sarcastically thanking referee Michael Oliver and his assistants at full time, saying "thank you SO much" in a comically exaggerated manner.
When someone asks me which Toy Story is the best one pic.twitter.com/CdkadktbMs

— Daisy Harding (@HaisyDarding) November 10, 2019
Those scenes alone were worth the gazillion pounds we spend each year on television subscriptions for live football. Guardiola usually does a good job of keeping himself on an even keel, but that's when his team are winning. Even then he can be an intense character in the dugout, but when they're losing? All bets are off.
The Catalan wasn't the first to lose the head like that on the sideline, and let's hope he's not the last. But he certainly wasn't the worst either.
Five of the Premier League's most infamous manager meltdowns:
Jurgen Klopp
Jurgen Klopp goes so wild on the touchline in just about every game that it's actually really hard to pick out one example above all others. The German is an emotional character during matches, gesticulating, remonstrating and just in general being a mad thing.
The Liverpool boss has become known for going wild in his celebrations, whether it's breaking his glasses against Norwich City or racing out to meet Alisson after a late winner against Everton. But he also hates losing and has within him the capacity to be a very sore loser, giving out about opposition tactics, long balls, refereeing decisions and even the wind when things don't go right for him.
Klopp came off terribly in a post-match interview following his side's 1-1 draw with their Merseyside rivals in 2017. He was dismayed by 'Big' Sam Allardyce's negative tactics, but he seemingly took an even bigger issue with the interviewer's line of questioning:
Jurgen Klopp was not happy after Liverpool let points slip vs. Everton.

Full interview: https://t.co/eoUb9MNobn pic.twitter.com/VuV1qts1WA

— ESPN FC (@ESPNFC) December 10, 2017
In terms of touchline demeanour, Klopp did have an angry exchange with fourth official Neil Swarbrick – now the Premier League's head of VAR – in which he shouted right in the official's face after Diego Costa theatrically won a penalty for Chelsea in 2017. He apologised for that after Simon Mignolet saved the spot-kick, although Swarbrick admitted he likes his "passion".
Perhaps the most famous touchline incident involving Klopp happened when he was still Borussia Dortmund manager. During a Champions League game with Napoli, the fourth official (they really are just human punching bags for him, huh?),  was forced to back up as Klopp squared up to him with a demented look on his face.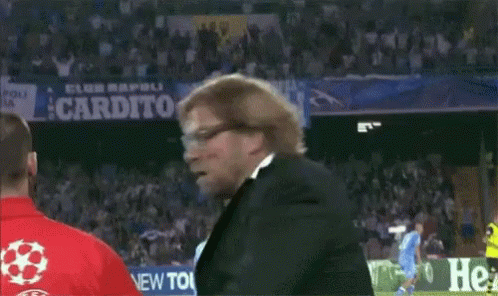 Whether happy or angry, you can be assured that Klopp's actions on the sidelines grates the nerves of opposition managers and players in the dugout. Maybe they need to take a leaf out of this young lad's book:
Never forget.pic.twitter.com/5jh9mkXt5g

— HLTCO (@HLTCO) June 21, 2019
Five matches that define the Liverpool-Man City rivalry in the modern era
Louis van Gaal
If you had to sum up Louis van Gaal in one word, there are a lot you could use, but the most fitting would probably be: eccentric. The Dutchman, after all, has been quoted as saying "our asses were twitching" (squeaky bum time), wanting his players to be "horny" (show passion) and calling defender Chris Smalling 'Mike'.
And that was just during his time at Manchester United. Van Gaal could never be accused of not being expressive and that isn't restricted to just words.
In 2016, during a match against Arsenal, the United boss was appealing to fourth official Mike Dean about a refereeing decision he disagreed with. Dean was unmoved, so van Gaal took the only recourse available to him; he took a dive. It made zero difference to the officials, but it was one of the sights to behold that season.
Dua tahun yang lalu pada hari ini, Louis Van Gaal telah melakukan " diving " di hadapan Arsene Wenger ketika United berjaya membenam Arsenal dengan keputusan 3-2 di Old Trafford. ⚽️🔥#ExtraTimeMY pic.twitter.com/RM0wOaGAFF

— EXTRATIMEMY (@ExtraTimeMY) February 28, 2018
It wasn't the first time he reenacted an incident for a fourth official either, leaping on the sideline during the 1995 Champions League final between Ajax and AC Milan.
Six best starts to a League campaign in English football history
Alan Pardew
It's hard to believe it's been five whole years since Alan Pardew headbutted David Meyler during a Premier League fixture. That's a long time in football; the former has been out of work for 19 months, while the latter has since retired from playing.
The then Newcastle United manager was shoved out of the way in the technical area by the Irishman, who was trying to get the ball back in play quickly as his Hull City side were losing 3-1.
Pardew didn't take kindly to that, confronted Meyler and butted him in the process. It was hardly the most violent act ever seen at a football match, but it was still a supremely stupid thing to do.
Unsurprisingly, the authorities threw the book at him: he received a £60,000 fine from the FA, a three game stadium ban, and a four game touchline ban. On top of that, his own club fined him £100,000.
It wasn't the first time Pardiola has been involved in a touchline fracas, after he got into a heated argument with Arsene Wenger after his West Ham side scored a late winner against the Gunners.
"The emotions have well and truly got the better of them" 😡

Alan Pardew v Arsene Wenger – #OTD IN 2006 pic.twitter.com/61TvW5pGJo

— Sky Sports Premier League (@SkySportsPL) November 5, 2019
Overall, Pardew probably has the worst sideline etiquette of any manager. In 2012 he pushed a linesman after an incident where the ball appeared to go over the touchline, but the referee deemed it still in play (he later apologised for his behaviour). Then in 2014 he called Man City manager Manuel Pellegrini "a fucking old c*nt" (he also apologised for that after being confronted by journalists about his abusive language).
What a charming man.
Jose Mourinho
The Special One has never not been an animated character on the sideline during his managerial career. From his celebratory sprint as Porto boss against Man United to poking Barcelona assistant Tito Vilanova in the eye when he was at Real Madrid, Jose Mourinho loves creating a theatrical spectacle when the cameras are on.
Last November, as he entered the final few weeks in his time in charge of the Red Devils, the Portuguese truly lost the plot after Marouane Fellaini scored an injury time winner against Young Boys in the Champions League, smashing a crate of water bottles on the ground in response. The great thing about this video is how he gently tips over another one of the carriers with his foot:
Never forget Jose Mourinho picking up a crate of water bottles and smashing them against the floor when Marouane Fellaini scored an injury-time winner against Young Boys in November.pic.twitter.com/ZZOuYlNijw

— HLTCO (@HLTCO) July 1, 2019
While that clip was a weird but harmless viral meme, Mourinho was involved in a far more serious incident in his second stint as Chelsea manager. When team doctor Eva Carneiro ran on to the field alongside physiotherapist Jon Fearn to treat an injured player in a match against Swansea in 2015, Mourinho was heard to have called her "daughter of a whore" in Portuguese.
The Blues boss reacted angrily at the time because the treatment of Eden Hazard meant the player had to go off the pitch, temporarily reducing the team to nine players. He also later called the pair "impulsive and naive", and she did not appear on the bench again for the first-team and later left the club.
The club and Carneiro came to an out-of-court settlement after she brought forward legal proceedings for unfair dismissal, but the whole affair was also the beginning of the end for Mourinho. He was sacked by the club just four months after that Swansea game, having lost nine of the opening 16 league fixtures.
Five great Premier League players who flopped as managers
Nigel Pearson
Leicester City's rise from League 1 back to the Premier League was the result of a combination of factors, including savvy ownership and intelligent scouting (with a smidgen of impropriety). But the man who guided the first team along that great journey was Nigel Pearson.
The Foxes manager garnered his fair share of negative headlines as well though, particularly when he appeared to hold down and choke Crystal Palace player James MacArthur on the touchline.
Never forget Leicester City manager Nigel Pearson trying to strangle James McArthur for absolutely no reason whatsoever.pic.twitter.com/RQ1i0Ap6bw

— HLTCO (@HLTCO) July 15, 2019
The bad publicity didn't end there; in one press conference he greatly insulted the intelligence of BBC 5 Live's Pat Murphy and called him an "ostrich" (the entire exchange really is worth watching in full); in another he called football writer Dion Fanning a "prick"; and let's not forget the time he told a fan to "fuck off and die", for which he refused to apologise.
Pearson did a fantastic job at the East Midlands outfit in completing one of the truly great escapes by keeping his team in the top flight that season, but it wasn't enough to save his job. He was let go in the summer and Claudio Ranieri replaced him. We all know what happened next.
Read: Six times Premier League stars famously had a bust-up with teammates