If anyone doubts that football is an art, they should see Andres Iniesta weave his magic on the field. His feet are his magic wand and his mind is what casts the spell that bounds us all with its grasping beauty and makes the opponents crumble down like statues of sand.
His elegance and nimble footwork on the field can make ballerinas blush, while the pinpoint passes and silky touches leave us in awe. His unbelievable balance can drive any skilled rhythmic gymnast to jealousy and yet his humble attitude would make Aidos the Greek god of humility look small in front of him.
Perfectly executed runs, jaw dropping nutmegs, mouth-watering footwork, defence splitting passes and the ability to singlehandedly control the tempo of the game; The Brain, The Illusionist, the Pale Knight whatever you call him, he is undoubtedly the one of the greatest playmakers of all time.
Uprooted Childhood:
Barcelona has been one of the most successful clubs in World Football. This global fame has enabled Barca to flex their financial muscles to lure the likes of Ronaldinho, Zlatan Ibrahimovic, Neymar, Diego Maradona, Luis Suarez to the club.
However, some of the very best players have been produced for free by the famed La Masia academy. Since it opened its doors, the likes of Pep Guardiola, Carles Puyol, Xavi Hernandez and Lionel Messi have trained at and graduated from the prestigious set up.
Another player synonymous with La Masia is Spanish maestro Andres Iniesta, a small boy from Albacete, Castille-La-Mancha, who was sent over 500 kilometers from home to develop into one of game's true greats.
At a tender age of 12, Andres was sent to La Masia. Iniesta's parents were convinced to send him to La Masia by a family friend and Barca's youth coach Enrique Orizaola. However, Iniesta was less convinced. La Masia is undeniably intense. The strict and grueling regime where youngsters eat together, sleep together, train together, learn together took a toll on little Andres everyday.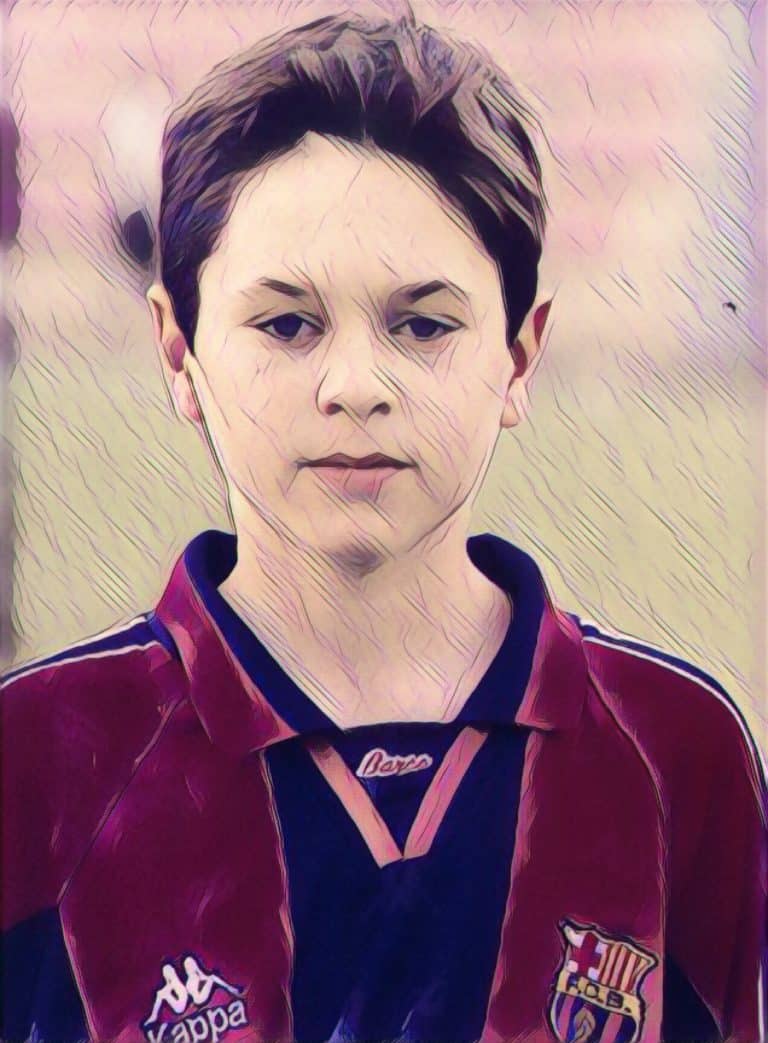 Iniesta, a shy child, was terrified and struggled with the thought of being separated from his beloved family and being thrown into such an intense system. He went on to admit that he "cried rivers" upon leaving for La Masia.
"I had a feeling of abandonment, of loss, as if I had pulled something from inside, deep inside of me" He admitted in his autobiography, The Move of My Life. Altough, Iniesta knew that however tough it may be it was the best for his future.
Despite threatening to quit the academy on several occasions, within three years he became the club captain of the U-15 team and guided them to Nike Premier trophy effortlessly in 1999 and scored a goal himself in the final. The knack of delivering his best on the giant stage was a habit since teenage years.
Iniesta's rise to the heights of professional football would be rapid, he was already beginning to garner attention from those higher up in the Barcelona ranks.
A Star in Making:
In 2001, the talented youngster who was ahead of his age was invited to train with the first team and joined players like Luis Enrique, Frank De Boer, Rivaldo on the pitch. Apart from these legends there was Xavi and Iniesta's teenage idol Pep Guardiola. Following their first training session Pep Guardiola famously whispered into Xavi's ear-"You are going to retire me, but this kid is going to retire us all".
Iniesta continued to perform in the Barcelona B side and that year saw him win his first professional title, Segunda B division. Louis Van Gaal returned for his second stint as a manager and results were disappointing. However, Van Gaal's part in Iniesta's rise can't go ignored, it was he who gave Iniesta a first team call up. Barcelona had already secured a place in the knockout stages of the Champions League, Van Gaal decided to rest players against Club Brugge and gave an uncapped pale 18 year old Iniesta his first start. The game was not remarkable as Barca won 1-0 but for Andres it was the greatest day in his life.
Iniesta confirmed "I think my first team debut was the most important day, It was the most important because I'd been dreaming about it for so long." The 2004/05 season was his breakthrough season as retirements of key midfielders Luis Enrique and Cocu freed up space in midfield.
He was the most used player that season as he showcased his phenomenal work rate as he missed just one match throughout the season. Over the next few seasons, Iniesta became a much loved figure as he gave a glimpse of his versatility by playing in a number of positions from left wing to central defensive midfield.
Instrumental Iniesta:
Pep Guardiola returned to Barcelona in a managerial role and helped Iniesta become the star man at Camp Nou. He was probably the most important player of Pep's Barca and he was one of the front faces of the squad which would go onto become one of the best squads that the game has ever seen. Iniesta and Xavi soon became the most in touch and feared midfield unit under the guidance of Guardiola.
Iniesta soon became the man who pulled the strings of Barca's orchestral midfield contributing goals and assists with one of the most notable goals coming at Stamford Bridge – a goal which drove Barcelona to the final and later to the UCL trophy.
Iniesta's on-field brilliance earned him respect from Sir Alex Ferguson who remarked that Iniesta "makes the team work" as he was bewildered by the performance of Iniesta in the 2009 UCL final. The following season Iniesta appeared to retreat in a shell due to the death of his good friend Dani Jarque. It proved to be a mental havoc for Iniesta and drove himself into depression resulting in a loss of focus and spirit.
Iniesta had to get up, had to rebuild himself and had to take a step forward. He took a step forward rather a giant leap on the eve of the 2010 FIFA World Cup Final. One Hundred and Sixteen minutes of frantic football between Spain and Netherlands wasn't able to decide who was going home with most prestigious prize in football. Both teams fate was on course to be decided by penalties. Andres Iniesta had other plans, that's when he played his masterstroke. Outclassing a herd of Orange jerseys he staged a storm and pierced that Jobulani past Steklenburg into the net.
Cupid had struck an arrow into the eyes of a million fans who just fell in love with that connection of Iniesta's right foot and the orb. As soon as the ball went past the goal line Iniesta removed his jersey to reveal a message:  "Dani Jarque siempre con nosotros, Dani Jarque always with us". He paid homage to his fellow pal on the biggest stage and later revealed that it helped him come back from a very dark place. Spain were crowned the FIFA World Cup champions and that meant Iniesta had won everything but one prize that football has to offer, the FIFA Balon D'Or.
Legend status- Confirmed:
There are very few players who can do what Iniesta does with a ball and his cerebral style earned him honors from his most fiercest rivals. If ever we doubt the sporting values still hold in the mercenary modern era, then the Catalan Derby of 2010 was pure gold dust. Andres Iniesta a player from the visiting team received an applause of 40,000 men and women at the Cornella and despite the home side losing 5-1 they applauded the Barca man in spine-tangling manner. Such was the domination of this Barcelona maestro that he was acknowledged by the staunch Santiago Bernabeu crowd.
For the following years Iniesta became a fatherly figure to Leo Messi as Barcelona continued their dominance in Spain and Europe. Leo would always draw him close when the game took a sharp turn and Don Iniesta would take control of everything. Soon Messi will look across and see an empty space as Andres will be some 5,000 miles away in Japan but his heart will always lie in Barcelona.
His final act in a Barcelona jersey was the Copa Del Rey Final and with two minutes remaining in the final, in his final, he began the long walk of goodbye. Slowly, swallowing hard, eyes red he made his way off the pitch and was embraced by team-mates, supporters and opponents as they knew the time had come to bid adieu to one of the greatest the game has ever seen.
What was touted as the Iniesta final, the last waltz, he marked it with a goal and reminded us all of the vintage Andres Iniesta. Collecting Messi's pass, a gentle shift of hips and a hint of pause, before beating Soria for the goal. His jumped in the air but soon sadness crept into the celebration. They all knew what it meant.
This is end of an era, a man who has bossed the midfield with his skill, composure and elegance is finally calling the curtains off on his 16 year Barcelona career. A player who doesn't have stats which could define his greatness yet does extraordinary things in most ordinary way.
It is remarkable, how a mere mortal commands such respect and admiration by those who have seen him weave his magic on the turf. His carefully crafted passes, beautiful assists and powerful goals make him one of the most revered players to have ever graced the football field.
Gracias Andres, we all will miss you. You will never be forgotten, you are not just a player, you are an emotion, a poet's finest work and your legacy shall be with us till eternity.
Here is to Andres Iniesta, and an Artist in the age of athletes.
TO CHECK OUT SOME OF THE BEST QUOTES ABOUT INIESTA CLICK HERE !