Presenting some of the standout statistics from gameweek 13 of Premier League action, featuring Chelsea, Man City, Sheffield United, and Liverpool's Andy Robertson.
Chelsea's superior possession counts for nought
Chelsea very possibly missed their best chance to insert themselves into the title picture on Saturday evening when they lost 2-1 to Manchester City. The Blues got off to an ideal start when N'Golo Kante put them in the lead after 26 minutes. It was the Frenchman's third goal of the season – and he's only taken three shots on target.
Despite losing the game, Chelsea actually had the lion's share of possession, something we almost never see from anyone taking on a Pep Guardiola side. Indeed, having the ball 53% of the time is unprecedented against the Catalan.
46.74 – Man City's possession figure of 46.74 today is the lowest recorded by a side managed by Pep Guardiola in any of his 381 top-flight matches in charge. Academic. #MCICHE

— OptaJoe (@OptaJoe) November 23, 2019
And yet, City never really seemed to not have control of the contest. They equalised eight minutes later and were leading another eight minutes after that. Apart from some good chances early on, the South West London outfit didn't trouble the opposition defence for the majority of the 90 minutes.
The visitors produced a high volume of passes, but it was so ponderous, the ball going from side to side time and time again. This pass map illustrates the lack of urgency quite well: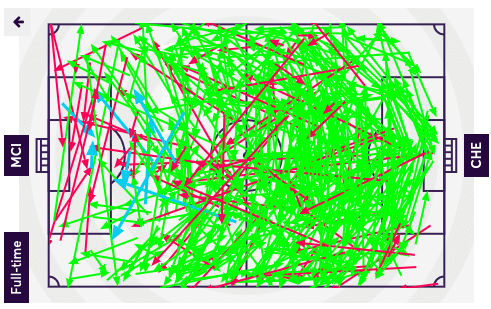 Startingly, no Chelsea player completed more than one successful pass into the penalty area. Even more worryingly, they only took six shots in the second half, even though they were chasing the game. The level of possession coupled with the lack of incision was reminiscent of Sarriball last season. City did a good job of shutting the game down, but it was disappointing to see a team who have looked so sharp in attack this campaign seemingly run out of ideas in a big game.
On a surprising side note, it appears as if Man City cross the ball more than any other team in the league, whipping the ball in 344 times in 13 matches to date. Liverpool are second with 324, while Everton are third with 305.
Read: The best players to line out for both Man City and Chelsea
Sheffield Utd continue remarkable run
Two teams came into Sunday's showdown with shared reputations for having a solid defence but a paucity of goals in the other direction. No one could be blamed for expecting a boring, low-scoring contest, and not the six-goal thriller we got instead.
Perhaps, in hindsight, we shouldn't be surprised; this was the second time in three weeks Sheffield United have scored three goals in a game, while it was the fourth time this season Manchester United have scored three or more goals in a game. The Red Devils have now scored nine goals in the last four league fixtures, having found the net just twice in the previous four.
The most impressive statistic stemming from Bramall Lane, however, was the continuation of an astonishing run; Chris Wilder's charges have now gone 61 league matches without losing by more than a goal.
When you consider they have already faced some of the so-called bigger clubs in Chelsea, Leicester, Liverpool and Spurs It illustrates a frankly ridiculous ability to keep themselves competitive in games, no matter who the opposition. According to Opta, this was also the first time they have dropped points after scoring first this season, while it was the first time the visitors gained points after conceding first.
After today, which one would you put your money on to finish in the top six?
Andy Robertson is the assist king
Liverpool extended their phenomenal unbeaten run in the league to 30 matches, matching Man City's streak between April 2017 and January 2018. The only two teams to have gone without defeat for longer were Chelsea in 2004/05 with 40 games and Arsenal with 49 between 2003 and 2004.
One of the major components of the Reds' run has been left-back Andy Robertson. Two weeks ago the Scot delivered an inch-perfect cross for Mo Salah to head home against City, which he followed up with another cross this week in the 2-1 win over Crystal Palace, this time for Sadio Mane to score.
It was Robertson's fifth assist of the campaign, putting him second in the league behind Kevin De Bruyne (9). No other player, according to Opta, has provided more than his 16 assists since the start of last season, with Bournemouth's Ryan Fraser matching that total.
In total Robertson has 25 assists in his Premier League career, and his ability to be such an effective creative outlet from full-back is phenomenal. It's only November but he's already looking like a lock for the PFA Team of the Year.
Read: A tactical analysis of how Spurs will play under Mourinho
See Also: Arsenal are stuck in a time loop they are destined to repeat