Liverpool have enjoyed a mid-season winter-break in the Spanish sunshine in La Manga. Is this an advantage for the Reds or not?
Liverpool`s 2-0 victory over Tottenham last Saturday reminded everyone of the form Liverpool showed earlier in the season as they quite literally demolished Tottenham in the first half. The 2-0 score line could have even been higher, such was Liverpool`s supremacy. Sadio Mane in particular caused Tottenham all kinds of problems, not least with his brace of goals.
Being knocked out of the FA Cup by Wolves in the last round means that Liverpool by the time they face Leicester away on 27th February, they will not have played for 16 games. Jurgen Klopp decided to take advantage of the break by jetting off to the sunny climes of La Manga in Southern Spain.
It is a good idea to get away for some team bonding, and some warm weather training sessions to prepare for the final 13 games of the season. Despite Liverpool sitting in fifth place, the fight for second spot in the Premier League is between five teams who are separated by just four points. Manchester City are currently on 52 points in second spot with Manchester United in sixth place with 48 points. It's all to play for with everyone having to play at least one of their top six rivals.
Hopefully the squad will come back refreshed and get back to playing to the same high standards as they did earlier in the season and hopefully put the dismal January performances behind them.
Transfer Speculation
As usual in periods where there are no games, there is a lot of speculation. This break has been no different with speculation regarding players' futures potential arrivals in the summer.
There has been talk of Klopp using the break to assess his players readiness for the coming season. However, after over 12 months in charge, I`m sure Jurgen doesn't need the trip to La Manga to assess his squad as he works with them all everyday. He should already know what their strengths and weaknesses are, so this is purely an opportunity to regroup, refocus, and recharge.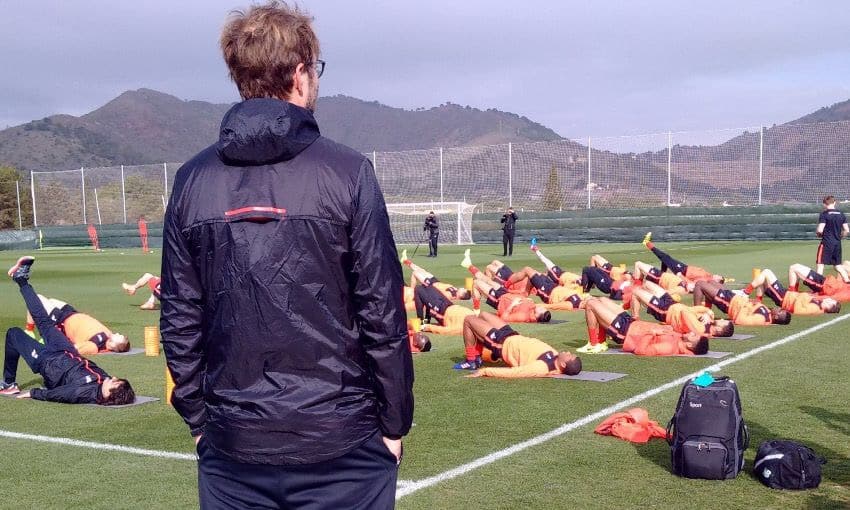 After the performances of January it is quite clear to everyone that the squad isn't big enough, or good enough, and there will be players moving out in the summer. I would like to see a new keeper, two defenders, a central midfielder and a decent striker.
If we can find a CM who is capable of bossing games and has the ability to add some steel to the side that would be brilliant. Liverpool are in dire need of somebody like this.
We are far too nice and don't seem to able to fight fire with fire when needed. Finding a player to fit this role is another matter, as there aren't too many knocking around.
Sturridge was sent home with a virus and was to train at Melwood when he recovered, but I fear this will only add to his Anfield exit his summer.
Ben Chilwell of Leicester and Mario Gotze from Dortmund are once again linked with a summer move to the Reds. I`d take Ben Chilwell in a heartbeat as we are in desperate need of a left back. James Milner has done a great job filling that position, but he is not a left back.
Mario Gotze meanwhile seems to have lost his way at Borussia Dortmund. He isn't a regular starter these days, so we`ll have to wait and see if he will move again. He is undoubtably a great player (or was) so maybe Klopp will have the final say on this one.
Advantage Liverpool?
Having a winter break has its advantages and Liverpool should return refreshed and raring to go. They should have an advantage over their fellow challengers with the others having been involved in FA Cup games over the weekend, as well as European games in midweek.
Chelsea and Tottenham breezed past lower league opposition, but both Manchester clubs had difficult games against Huddersfield Town and Blackburn Rovers. These fixtures will have taken something out of them, which could help the reds chances further.
Liverpool have a maximum of 13 games remaining, generally with a week of recouperation in between. Manchester United on the other hand have a potential 25 matches, depending on the success FA Cup and Europa League campaigns.
This is clearly an advantage to Liverpool. They will get more rest and preparation time than their rivals. This will be particularly advantageous considering Liverpool's energetic and pressing style of play.
I am not sure the break has its advantages though, as Liverpool had got back to winning ways and shown the form of earlier in the season. Personally, I`d have liked to have had another game quickly and not wait 16 days.
Only time will tell if the break was an advantage and we`ll see how we fare in our next fixtures against Leicester and Arsenal. One thing is for sure, the next two games will suit Liverpool and will give them a chance to play the way they like, unlike the games against January`s opposition were they were stifled somewhat.
Where the season will take us, nobody knows, but hopefully it's back into the Champions League.