It is often thought that the Premier League is the best League in world football. But there are plenty of things wrong with the game in England. Here is what English Football should learn from the German game.
On April 15th 1989, something terrible and tragic happened. 96 Liverpool supporters went to watch a football match, and never came home. Hundreds more were injured in the Hillsborough disaster, and many families were left to grieve in agony and sadness. However, there was another thing that was also killed off in the aftermath of the disaster, and that was English football.
As a result of the tragedy, the then Prime Minister Margaret Thatcher introduced new safety legislations that forced all football stadia in England and Wales to be converted into all seater arenas.
Legislation
This means that standing up, even in seating areas, is forbidden. Any supporters caught standing could be asked to sit down by Match officials. Stewards and Police officers have the right to eject you from the ground. This rule, has helped to kill off the once fantastic atmosphere of the English game. People now have to just sit down and be quiet, rather than stand up and fully immerse yourself into the atmosphere of the game.
However, this is far from the case in German football. In Germany, it is still all about passion of supporting your team. At every club, supporters are united like a family, something that is far from evident in English football.
Every club in the top tier of German football, the Bundesliga, has a group of hardcore fans who passionately support their team in every game.
Back in 2014, German club Schalke 04 face Real Madrid in the Champions League. They lost the game 6-1, with the consolation goal coming in the dying moment of the game. English fans would have just simply booed their team and walked out in their thousands. However the Schalke ultras just kept singing and the place was still rocking, even at 6-0 down.
Borussia Dortmund famously have the Yellow Wall at the Signal Iduna Park, a single tier terrace of over 24,000 fans singing and cheering their side on every game.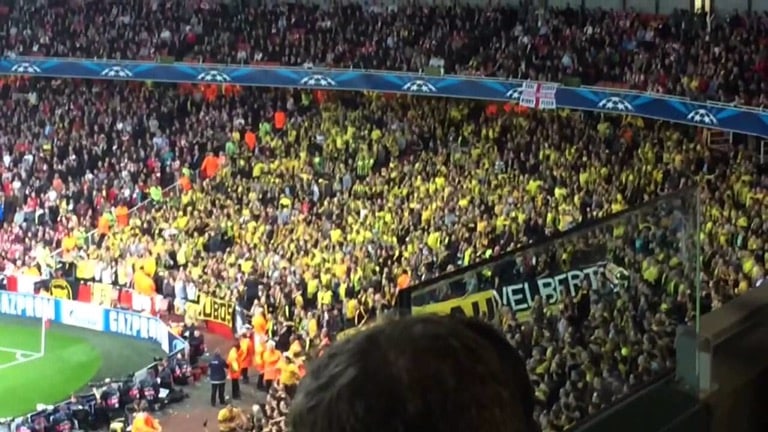 In 2013, the much loved Dortmund fans headed to play Arsenal at the Emirates Stadium. All of the fans were in the away end way before the home fans and kick off, and before, during and after the game the fans would simply not stop singing.
The Germans are helped of course by the installation of 'Safe Standing sections'. Areas where the seats retract back fully to allow a safe area to stand. There is also a rail in front each row of supporters to prevent falls and crowd surges. However this 'Rail Seating' is still prohibited in the UK as a result of the Governments policy in response to the Hillsbrough disaster.
Ticket Prices
There are also some other issues that I would like to give my opinion on. One problem that has got worse and worse over the years is ticket prices.
It is possible to buy a Season Ticket at Bundesliga champions Bayern Munich for £67. Yes, you read that right, just £67 for a whole season! It costs that amount to see certain Premier League teams for just one match. Even some of Munich's more expensive season tickets are significantly cheaper than clubs in England's first and second tiers. A 2015 study found that the cheapest Premier League season ticke was available at Stoke City, priced at £294. Arsenal, the leagues most expensive was priced at over £1,000!
This has lead to football matches becoming more sanitised and corporate events, rather than an atmospheric occasion for diehard fans. The traditional football fan has been priced out of attending Premier League football.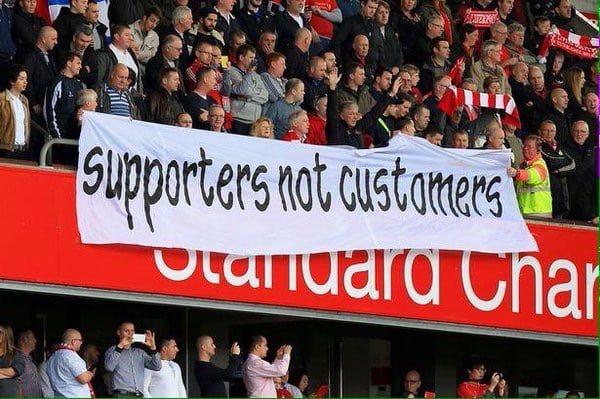 Luckily, campaigns like 'Twentys Plently' have successfully campaigned for a reduction of over inflated ticket prices, which led to the Premier League introducing a price cap in away ticket prices.
Food and drink inside German Stadi is also much cheaper. Alcohol in the stadium is much cheaper than in England, and can also be consumed at your seat in the stands, something that is ilegal at English football matches. It is only permitted to be consumed on the concourse. Other sports like Rugby and Golf allow you to do this, so why can't football fans?
Solutions
However, on a positive note, some clubs are actually trying to resolve some of these problems.
Several clubs such as Manchester United have designated 'singing sections' where likeminded fans are encouraged to sing and try to create an atmosphere. Meanwhile, north of the border, Scottish champions Celtic have recently installed a safe standing section for their some of their home fans at Celtic Park. The move has been greatly appreciated and they are the first major UK club in order to install a safe standing section as they fall outside of the Government legislation.
As for the minimal atmosphere, ultra groups (hardcore fans) at clubs like Crystal Palace and its Holmesdale fanatics, and Watford with its 1881 movement, have aimed to increase the atmosphere at their respective home games.

Finally, pressure groups like the previously mentioned Twentys Plenty are trying to implement cheaper tickets for the currently overpriced Premier and Football league. Overall, English clubs are trying to resolve some issues, but ultimately the once cultural and united atmosphere of British football seems to be long gone. They should take a long hard look at the German model of success.