This weekend's FA Cup semi-final tie between Manchester City and Chelsea will see English football's two best teams face off in its most historic tournament.
Pep Guardiola's side are in the hunt for an unprecedented quadruple of major trophies, while Thomas Tuchel will be aiming to earn his first piece of silverware as Chelsea head coach.
It's unlikely that either manager will deviate from their team's standard formations: City will play a 4-3-3 and Chelsea will play their 3-4-2-1. By contrast, their starting elevens are extremely difficult to predict given that both managers rotate heavily.
Neither team concede many chances and both have few obvious weaknesses, which could lead to a game with few goals. Nevertheless, they are both teams of supreme quality and should produce an intriguing match.
Here are two key areas where the game could be decided.
1) Chelsea's Midfield Square
One of the defining features of Tuchel's Chelsea has been their ability to generate numerical superiority in midfield. By having a double pivot and two number tens, they form a square in the middle of the pitch and place the opposition midfield in a quandary.
If, as in the above image, City's midfielders were to push up and pressure the double pivot, they leave space behind them that Chelsea's attacking midfielders can drop into, receive the ball, turn, and drive towards the City backline.
Kante is also a strong dribbler and could carry the ball out of the press himself, putting City on the back foot. If City's midfield were to instead sit off, they would give time and space to the double pivot to dictate play from deep — a particular strength of Jorginho.
No team has quite figured out how to circumvent this issue. City may try to have Ilkay Gundogan and Rodri mark the two tens and have Bernardo Silva aggressively press Jorginho. The Italian is not particularly press resistant, while Kante — who would be left free — is not as incisive a passer as Jorginho.
However, this strategy could still cause problems. As shown above, Reece James would be able to tuck infield and exploit the space in Chelsea's right inside channel. Zinchenko could push up to mitigate this, but that would leave space in behind for Hakim Ziyech to exploit. Foden could drop back, but Azpilicueta is capable of pushing up to maintain Chelsea's numerical superiority.
There is seemingly no perfect solution to Chelsea's midfield square and mitigating that strength will undoubtedly be among Guardiola's foremost concerns.
2) City's False Nines
At Barcelona, Guardiola popularised the use of a false nine by using Lionel Messi as a nominal centre-forward. Rather than playing in-line with the opposition defence like a standard number nine, a false nine drops in between the opposition midfield and defensive lines.
If a defender comes out to close them down, they leave space for other players to exploit. If they hold their position, they afford the player time and space to pass, dribble, or shoot.
At Manchester City, Guardiola has tweaked this concept by allowing multiple players to play as false nines at the same time.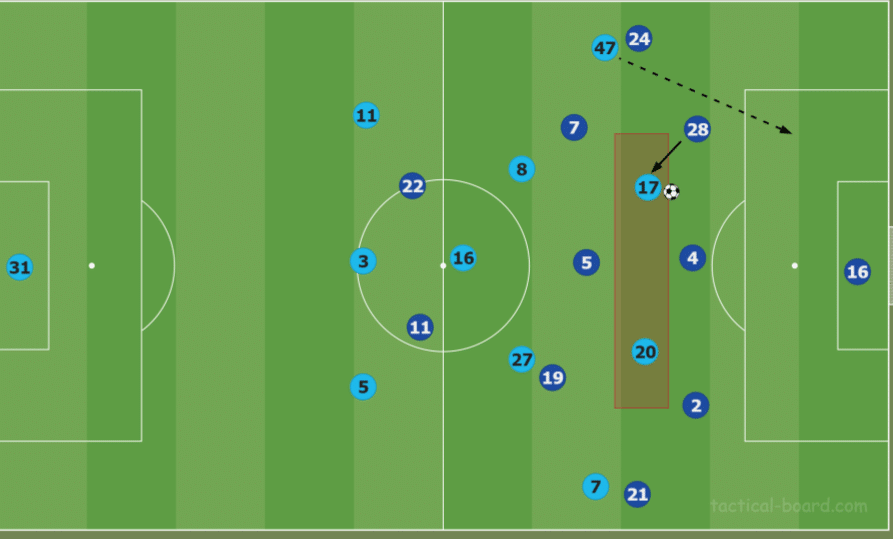 The above image shows De Bruyne and Silva playing in between the lines with no player occupying the role of a traditional striker. Against Chelsea, this could be an effective ploy as it would leave their three central defenders with no one to mark and effectively take them out of the game. If one of the centre-backs were to engage either De Bruyne or Silva, they would leave space in the inside channel for either Foden or Sterling to exploit.
Additionally, if De Bruyne and Silva interchange with Cancelo and Gundogan, as they have when this tactic was previously deployed, it could place huge strains on the Chelsea midfield who could be disoriented by the constant interchanging of City's players.
Whether Guardiola will adopt this strategy is unclear. He alters his forward line on a game-to-game basis and so Gabriel Jesus could be selected and used as a more orthodox striker.
Regardless of who leads the line for City, they will look to position players in between the lines to create opportunities for quick passing exchanges.
Chelsea will need to work out how to deal with that threat. They could push their defensive line higher to reduce the gap between them and the midfield, but that could leave them exposed to late runs from City's midfielders and wingers.
Tuchel may also instruct Kante and Jorginho to play narrow and close to the back three, relying on Rudiger and Azpilicueta to step out when required and trusting the wingbacks to cope with the threat of Sterling and Foden.
City's presence in between the lines will undoubtedly cause Chelsea problems and if they use two false nines, they could be even more dangerous.
Manchester City and Chelsea are arguably two of the best teams in Europe at the moment. They may not produce a goal-fest, but their FA Cup semifinal will surely be an interesting, competitive, and exciting contest.
Read – Gianfranco Zola: The little genius who dropped jaws and opened minds
Read Also – Feed the Goat because he's adored: Why Shaun Goater is Manchester City's legend of legends
Subscribe to our social channels:
Facebook | Instagram | Twitter | YouTube