Apart from knowing that Real Oviedo were once a Spanish Team in La Liga who were relegated some years ago, up until recently I had no other knowledge of Real Oviedo.
That was until about 6 months ago when I read something on Twitter about the clubs massive share sales around the world in a bid to stave off bankruptcy, and this got me intrigued and I wanted to learn more about this club who were now in the third tier of Spanish football, the Segunda B League.
History
Real Oviedo were founded in 1926 after the merger of two teams, and have spent the majority of their years bouncing backwards and forwards between La Liga and the Segunda Division, with not much real success over the years. They play at the Estadio Carlos Tartiere Stadium in Oviedo in the Asturias region of Northern Spain.
The ground was renovated in 1982 and was used as a venue when the World Cup was hosted in Spain that same year. A number of group two first round matches were played between Chile, Austria and Algeria. Further redevelopment took place in 2000, which increased the capacity in the new Carlos Tartiere Stadium to just over 30,000.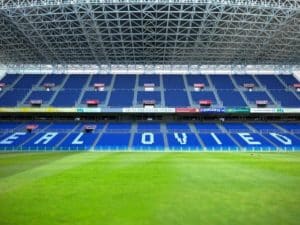 As I mentioned Real Oviedo have spent most of their time between La Liga and the Segunda Division. The only real honours they have won are a number of Segunda Division winners titles, a Segunda B Division winners title, a number of Tercera Division winners titles. Their most notable success is the Spanish League Cup winners in 1985, and the highest position achieved in La Liga was 3rd place, which they have achieved 3 times, the latest being in 1963.
Their most recent success came by winning the Segunda B Division League in season 2014/2015 by beating Cadiz 2-1 after a two legged game. I think this could be considered Real Oviedo's greatest ever achievement, gaining promotion back to the Segunda League after years in the wilderness where they nearly had to call time and close the club down altogether due to severe financial problems, and it`s a sort of Phoenix from the flames story.
Recent woes
From the year 2000 Real Oviedo's fortunes took a turn for the worse. Major financial troubles, turmoil within the club and problems caused by the players, the board and local politicians.
It led to a number of consecutive relegations for the club, which saw Real Oviedo drop into the third and fourth tiers of football in Spain. They gained promotion and were relegated between the Segunda B League (third tier) and the Tercera League (fourth tier) a number of times between 2003 and 2009. It wasn't until after the 2009 season that they consolidated their place in Segunda B for a number of years.
Out of interest, Segunda B is actually made up of four individual divisions, numbered 1 to 4. All the division winners then have to play against each other in a semi final and then a final. Only the winner of the final is promoted back to the Segunda, making it an extremely difficult task indeed.
Despite of the lack of success, and the fall into the lower reaches of the Spanish League, Real Oviedo had a great local fan base. When they were relegated from La Liga in 2001 there were over 19,000 season ticket holders and nearly 11,000 season ticket holders when they played in the Tercera Division for the first time ever in 2003.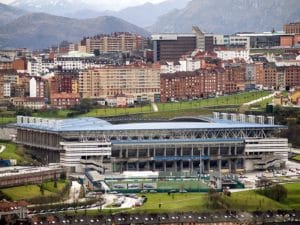 Financial saviour
Financial troubles were always in the background, and in 2012 Real Oviedo needed to raise $2million dollars by November or face the real possibility of going under.
With the help of one of the richest men in the world, a Mexican called Carlos Slim who invested $2.5m plus a worldwide share issue they managed to raise sufficient funds to prevent the club being wound up.
A number of famous ex Real Oviedo players also pledged financial support to save their old club from bankruptcy. These include players such as Santi Cazorla (Arsenal), Michu (ex Swansea), Juan Mata (Man Utd) and Adrian (Atletico Madrid). These players are treated like gods by the Real Oviedo fans for their support, and it is generally thought that one day in the future, at least one of these players will return to play at the Carlos Tartiere.
Its a pity the same can`t be said of Stan Collymore, the ex-Liverpool (and most of the Midlands Teams) player, who also played three times for Real Oviedo in 2001. He left in rather acrimonious circumstances and I'm not sure he`d be welcomed back like the like of Carzorla and Mata etc, but that's another story.
Ovideo and I
Real Oviedo have a great stadium, great fans, and now a worldwide fan base from over 80 countries following the share sale so they are on the big stage once again. I like my away days and I will try and fit a game in at Real Oviedo at some point, but it`s not the eassist place to get to from the North West of England. The only option to fly directly is a flight from Stanstead to Asturias with easyJet. Looking at other ways to get there you can fly to Bilbao from Manchester and take a three hour coach journey. You can even sail from Portsmouth to Santander followed by a two hour drive, so bit of a trek.
Alternatively, you can fly to Madrid, Barcelona or Malaga from Liverpool`s John Lennon Airport and catch a connecting flight from there.
I mentioned this on a 'twitter' conversation the other day, and got a funny reply from a guy in America, who said "you want to try the journey from the West coast of America #countyourselflucky", which was quite funny.
I will however make it one day to see this famous, and historic Spanish slepping giant.