With the arrival of Mohamed Salah looking imminent, is Jürgen Klopp about to transform Philippe Coutinho's role?

Coutinho was initially brought to Liverpool by then manager Brendan Rodgers in the January transfer window of 2013. The transfer very much went under the radar for what now seems a miniscule fee of £8.5m.
With Liverpool having also signed Daniel Sturridge that window, Coutinho would struggle to get a starting spot in the team. He featured just 13 times in the second half of the 2012/13 season having to settle for backup to Daniel Sturridge, Stewart Downing, Raheem Sterling and Luis Suarez.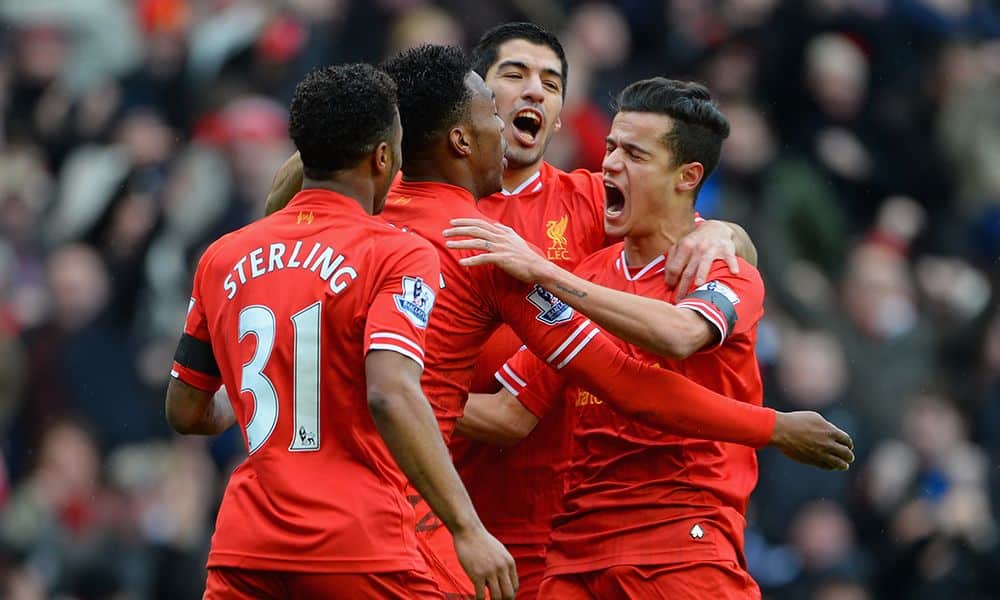 Mostly Coutinho was used as an attacking midfielder behind Suarez but his versatility allowed him to play on either wing.  However in the 2013/14 season Coutinho featured much more regularly as a winger. Making 33 appearances he played an important role in allowing Suarez, Sturridge and Sterling to have creative freedom.
However in more recent times Coutinho has played almost solely as a left winger. This past season 28 of his 33 appearances in the league came on the left wing. Despite Coutinho enjoying a lot of success on the wing Klopp may be about to change his position.
Potential Position
In the final few games of the past season Klopp experimented with Coutinho in a new position. The Brazilian's excellent creativity meant he could play a free-roaming creative central midfield role. Thankfully for Klopp, Coutinho and everyone associated with Liverpool the experimentation payed off.
Coutinho's creative excellence shone as he impressed in successive wins helping his team to 4-0 and 3-0 victories over West Ham and Middlesbrough respectively. Whether or not a central midfield role will become more commonplace for Coutinho is yet to be seen.
Potentially Coutinho could have a very long and successful career in central midfield. He certainly has the creative attributes to succeed but he may need to improve the physical side of his game.
Looking forward Coutinho could become Liverpool's new creative dynamo filling the void left by Steven Gerrard. He could also be for Liverpool what Iniesta was for Barcelona. Which could actually be rather worrying considering Iniesta is coming to the end of his career and Coutinho is highly coveted by Barcelona.
Salah Arrival
The transfer of Mohamed Salah to Liverpool looks almost complete with a rumoured record transfer fee for Liverpool. With that in mind it would be hard to imagine Salah not being a regular starter for Liverpool. Therefore it is likely that Coutinho would vacate the left wing role to accommodate Salah and Mané on either wing.
This may be why Klopp experimented with Coutinho at the end of the season. It is likely that Liverpool were already in talks with Roma to sign Salah before the season had ended. In this case Klopp would need to find a new position for Coutinho if the regular front three for next season is to be Salah, Firmino and Mané.
Even if the deal for Salah were to fall through (which is unlikely) it is almost definite that Liverpool will sign at least one winger this summer. Therefore Coutinho would presumably have to play more games in midfield regardless.
Moving in to midfield does come with its problems though. Competition for places is strong at the moment and that's before you consider Liverpool are likely to add another central midfielder to the squad. The likes of Naby Keita have been strongly linked in recent weeks.
As it stands Henderson, Can, Wijnaldum, Lallana, Grujic, Lucas, Coutinho and potentially Keita would all be competing for three places in midfield. As Henderson is captain and a key player for the team you would expect one of those places to be taken up by him. It would be foolish to leave out Coutinho as well. This means that it is not unthinkable that Can, Wijnaldum, Lallana, Grujic, Lucas and Keita could all be fighting over one position.