Arsenal have been without a doubt one of the greatest sides in the Premier League, and it wouldn't be possible without some great players.
Here are five of the best signings that the Gunners have made in the Premier League era.
[tie_slideshow]
[tie_slide]
#5 – Dennis Bergkamp (£7.5 million)
Dennis Bergkamp is one of the most captivating forwards of all time. Arriving to Arsenal in June of 1995 from Inter Milan, the young dutchman soon became the driving force in North London.
Playing alongside Thierry Henry in the early 2000's, the two central attackers created one of the most troublesome attacks in Premier League history.
Bergkamp spent the rest of his playing career under Arsene Wenger, scoring an impressive 87 goals with an equally impressive 94 assists, with 0.57 goal contributions per match. After 11 seasons and three premier league titles, Bergkamp finally put the lid on an impressive career in 2005.
CHECK OUT OUR TRIBUTE TO DENNIS BERGKAMP
[/tie_slide]
[tie_slide]
#4 – Mesut Ozil (£42 million)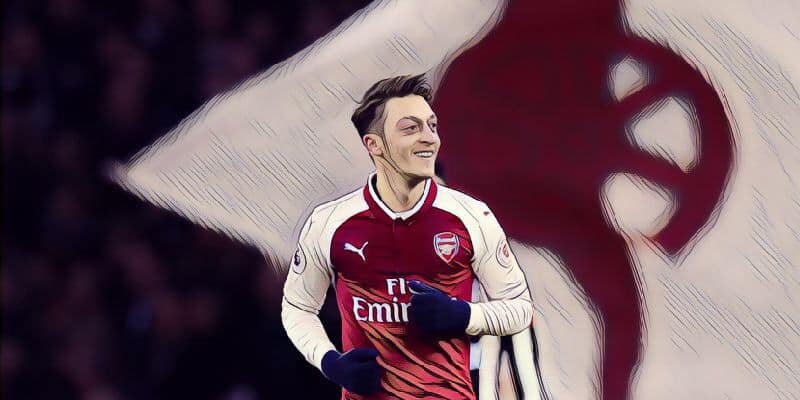 The undisputed king of North London these days, Mesut Ozil has made an unprecedented impact since his 2013 arrival in England.
Leading Arsenal to their first piece of silverware in nearly a decade, he has found his way into the hearts of Gooners everywhere. The only current Arsenal player on this list, Ozil has garnered the reputation as one of – if not the best – creative players in the world.
Ozil has left Gooners purring after some impressive performances in his tenure under Arsene Wenger, potentially keeping the aging Frenchman in a job. With 81 goal contributions in 142 league appearances, the Arsenal faithful will only expect more following a contract extension to 2021.
[/tie_slide]
[tie_slide]
#3 – Patrick Vieira (£3.4 million)
The man that Arsenal fans wish they still had, Patrick Vieira was a crucial and commanding force in Arsene Wengers midfield through the early 2000's.
Coming from AC Milan in 1995, Vieira soon solidified his place in the heart of the Gunners squad and was eventually named captain in 2002.
Vieira, and his commanding presence,  was the leader that Arsenal needed when they went unbeaten in the League, writing their names in the history books. In hindsight, £3.4 million was a bargain for the future captain and teams all around must've been kicking themselves for missing out. In 2005, Arsene Wenger cashed in on his captain, sending him back to Italy for £20 million, representing a £16.6 million profit, a handy piece of business by the Frenchman.
CHECK OUT FIVE OF THE BEST FRENCH FOOTBALLERS TO PLAY IN THE PREMIER LEAGUE
[/tie_slide]
[tie_slide]
#2 – Sol Campbell (Free)
Sol Cambell is on this list for many reasons. Campbell was the best player for the Gunners most fierce rivals, Tottenham, and had vocally pledged his future to the Lilywhites. After times of uncertainty, Sol ran his contract down and made the dangerous, and lesser trodden trip across North London and joined Arsene Wenger at Arsenal.
Labelled Judas by Spurs fans, the success that Campbell found made the controversial move more than worth it. Cementing himself in the backline of Arsenal's greatest times.
Making 210 appearances in all competitions, he won two Premier League titles, a handful of FA Cups and plenty of individual honours. Sol Campbell is certainly one of the best Arsenal signings in the Premier League era.
BEST PREMIER LEAGUE CENTRE BACKS OF ALL TIME
[/tie_slide]
[tie_slide]
#1 – Thierry Henry (£16.1 million)
After a disappointing half season at Italian giants Juventus, Arsene Wenger brought his fellow compatriot to London for a now what seems like pennies.
While he may have been a bit of a gamble, his signing turned out to be an absolute masterstoke. He would become the driving force for the Gunners throughout their era of dominance.
Making a quick impact in London, Thierry was soon one of, if not the most, feared attackers in England – if not all of Europe. Leading Arsenal to an unbeaten season and two League titles and three FA cups, Henry was top scorer four times in England.
Along with his fantastic goal scoring record, Thierry was a hell of a creator, holding the record for the most assists in a Premier League season with 20.
A successful tenure in North London saw the iconic Frenchman leave for the sunny skies of Barcelona to achieve his dream of  a Champions League.
Despite his departure, he will always be an Arsenal legend.
CHECK OUT THE BEST QUOTES ABOUT THIERRY HENRY
[/tie_slide]
[/tie_slideshow]