For a man with more assists in all competitions than any other player in the Premier League, why Christian Eriksen is not hailed as one of the best attacking midfielders in the league is a mystery.
With 15 assists in all competitions and with only ex Spurs man Gylfi Sigurdsson recording more in the league represents another impressive season for the Dane. Yet he is still not mentioned in the same bracket as players like Coutinho, Silva, Ozil (yes really).
However, not only has Eriksen got more assists as well as chances created than the pair this season, Eriksen has been performing consistently over the last three seasons for Spurs. This is not a new phenomenon.
What Eriksen has added to his game in the recent seasons is his performance in the big games. At the crunch stage of the season last year, Eriksen scored in the crucial 2-1 away win at Manchester City. He also assisted Dele Alli in a 3-0 victory over City's neighbours Manchester United. This season, Eriksen assisted both Alli goals in the 2-0 win over Chelsea at Whuge Hart Lane.
Under ex Spurs managers such as Andre Villas Boas and Tim Sherwood, Eriksen's main problem was his lack of consistency. Even in early parts of the current season, the Dane struggled to show his undeniable quality week in week out for Spurs.
Quality and Consistency
However, in recent months Eriksen has managed to add consistency to his game. He has taken his performances to the next level, and arguably above players like David Silva and Coutinho.
Don't just take my word for it. With the help of the Sqwawka Player Comparsion, we can see that Erikson's stats back it up. Whilst the Dane is behind Silva, Coutinho, Mata and Özil in his pass completion stats, he is ahead of his competitors everywhere else.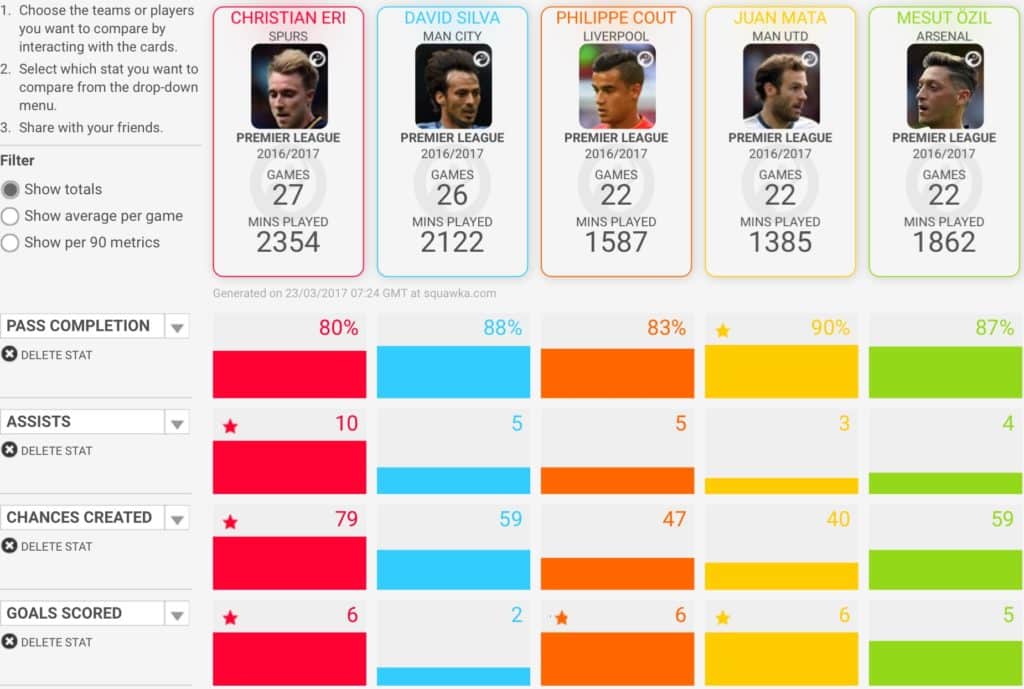 He has created at least 20 more chances than his rivals in the Premier League this season, and has also scored six goals too.
Perhaps the reason for this is Spurs having moved to a back 3. Eriksen was not playing in his preferred position. He was instead playing on the left wing, and not his usual number ten role, which has been occupied by Dele Alli.
What Eriksen offers that Silva and Coutinho do not perhaps, he can find that killer pass at crucial moments for his team. Eriksen may not be as silky and aesthetically pleasing on the eye as the likes of Silva, but he is certainly as effective.
With Eriksen improving every season at Spurs, it is about time he gets the respect he deserves as one of the best attacking midfielders. Not only in the Premier League, but in Europe.