With rumours of a new contract in the pipeline, nobody would ever have thought Marouane Fellaini could become a key player for Manchester United. How has the Belgian gone from a pariah to a powerhouse.
On the 30th of September, 2017, forty-nine minutes into United's Premier League fixture against Crystal Palace, Marcus Rashford whipped in a vicious free-kick, that Marouane Fellaini nodded home for his second goal of the afternoon, United's third, and quelled any notion that Palace might have a chance to mount a second half fight back. As the big Belgian was mobbed by his teammates, it would not have surprised anyone if he had, just for a second, cast his mind back a few years.
When Fellaini was unveiled as the first major signing of the David Moyes era, the general consensus was one of bemusement. Yes, Fellaini had enjoyed several good seasons under the Scot at Everton, but by waiting until the last second to complete the transfer, United had allowed a clause in Fellaini's contract to expire that would have made him available at a lower cost.
There was also the fallout from the Wayne Rooney to Chelsea saga that had dragged out over the summer, and the feeling was that United needed to make a big signing, a statement of intent, to lay down the marker and say that the end of Sir Alex Ferguson did not signal the end of United's dominance. Fellaini's arrival was underwhelming.
Underwhelming
Underwhelming was also probably the nicest way to describe the ensuing season. United sank under the stewardship of Moyes, and Fellaini served as a lanky, expensive stick to beat him with. Playing in a new team, in an uncertain, sometimes hostile environment, Fellaini wilted. He had scored 11 league goals, as well as assisting 5 in his last season at Everton, and this dropped to a shocking 1 assist at United, with no goals scored. His chances created per game and aerial battles won per game also dropped. He was all ungainly strides and sharp elbows, and when Moyes left, many assumed Fellaini would follow suit.
Louis van Gaal saw something in the Belgian bruiser, and decided to retain him, much to the chagrin of many in red. Fellaini's numbers did initially improve under the Dutchman, with more goals, more league appearances and a better percentage of aerial duels won. However, van Gaal too often proved to be negative in his tactics, leading to him inevitably sending Fellaini up top as an afro-sporting battering ram when games entered their final throes, with United losing or drawing.
In van Gaal's second season, Fellaini was arguably worse that he was under Moyes. Aerial battles were lost, there was just a solitary league goal, and his appearances coincided with a league win rate of just 33%. The fans, with memories of Ferguson's title winning teams still fresh in their minds, eventually had enough. When van Gaal was fired after winning the FA Cup, many assumed Fellaini would be sold.
Jose Mourinho was appointed as manager in the summer of 2016, and to general dismay he decided to keep Fellaini. I firmly believe that if van Gaal had remained in charge, Fellaini would have been sold, and you would have been hard-pressed to find anyone who would have complained. Fellaini made 28 league appearances last season, and though he only scored the one goal, it was his defensive contributions that began to blossom.
With his self-belief growing, his tackles per game, aerial battle win percentage, and interceptions per game all increased. The manager put his faith in Fellaini, and at long last, after all the abuse, the bashing, the punishment, the agony and the failure, the Belgian was paying it back.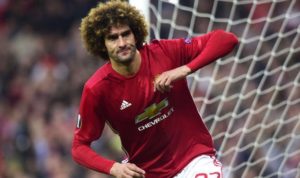 It was natural to feel worried when Paul Pogba went down with a hamstring injury in the Champions League game against Basel. The Frenchman had been in inspired form, and there is no midfielder that can replace him in the United squad. However, Fellaini deserves all the credit for the way he has stepped up in Pogba's absence, to ensure that United continue to plough through teams as summer turns to autumn.
The turnaround complete
Within this current iteration of United, he has an identity, a role, and a niche. Through hard work, perseverance, and sheer bloody- mindedness, Fellaini has succeeded in turning the corner, and has begun to win over the United faithful. He is never going to have the flair of Pogba, the tenacity of Ander Herrera, or the calmness of Micheal Carrick. But he doesn't need to. It's taken four long years, but Marouane Fellaini is finally starting to look like a Manchester United player.