Despite being at Manchester United for two-and-a-half years, it is only this season that Ander Herrera is really showing his his true qualities.
The Spaniard was first targeted by David Moyes back in 2014, and his transfer to Old Trafford was sanctioned by Moyes' replacement Louis Van Gaal. The signing had Manchester United fans excited after seeing the energetic midfielder perform so well against them for his former club Athletic Bilbao in the Europa League.
On that night at Old Trafford, Herrera and his Basque teammates out ran and out pressed Manchester United, and grabbed a famous victory at the theatre of dreams, and were applauded from the field by the home supporters who appreciated the quality of the visitors performance that night.
It is no wonder that Manchester United fans were excited. Boring Mr Moyes was gone, replaced by the successful if not slightly strange Louis Van Gaal, who had just led the Netherlands to the World Cup Semi-Final. Couple that with the signing of a dynamic young midfielder, and United fans had hope once again.
However, it wasn't all plain sailing for Herrera or for Louis Van Gaal.
Van Gaal – The control freak
What soon became evident was that the Dutchman was a control freak. He wanted to control every aspect of the players. Cameras at the training ground. Endless meetings, briefings, debriefings. He wanted to control every element of the play.
His famous 'philosophy' in a nutshell, was do not lose the ball and a chance will come. Sometimes that's all that happened, United kept the ball and a single solitary chance would come.
With this control, United moved the ball slowly and methodically, from side to side, from midfield to defence, and back again. It was just as boring as his predecessor and Herrera was one of the biggest victims.
Despite splashing €36million on the midfielder, Van Gaal didn't seem to fancy the Spaniard, or utilise his abilities. After weeks on the bench, Herrera would be given a rare chance to impress. However he would quickly find himself back on the bench after daring to attempt a through ball into the strikers, or even play a first time pass.
Mourinho making the most of Herrera
However, under Jose Mourinho, Herrera just looks better! Without watching him in detail, his qualities could go unnoticed. However when you keep a close eye on him, it's clear to see. Herrera is everywhere.
He is a gritty, energetic, bundle of energy with a keen eye for a pass. A quick and creative mind as well as a nose to sniff out the danger. Much has been made of Manchester United's statistics with and without Michael Carrick in the side for, and rightly so.
But whilst Carrick is a Rolls Royce, Herrera is a Range Rover. Capable of the classy, willing and able to do the dirty.
Don't just take my word for it, the stats back it up. Courtesy of the Squawka Player Comparison, we've compared some of the key stats of Herrera's last few seasons.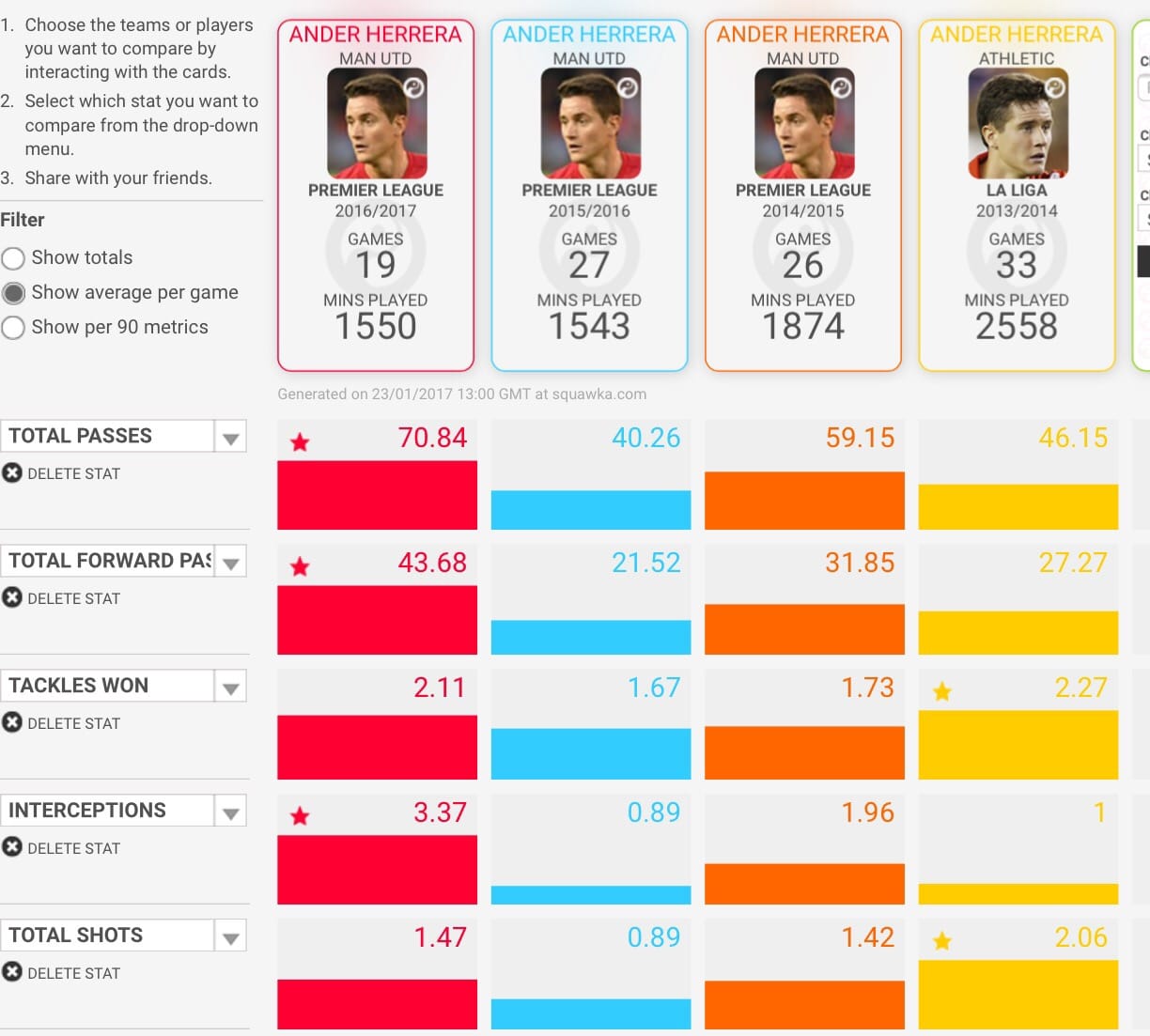 The stats to back it up
Firstly, look at the top numbers. We are only 22 games into the season, and Herrera has already played more minutes of football under Jose Mourinho than under Van Gaal last season. He is clearly a player who has the trust of his manager, and the rest of the stats show why.
On average, per game, Herrera is doing so much more this season than at any stage under Louis van Gaal. He is making, on average, 30 more passes per match this year than last year. This is simply because he is given the freedom to move around the pitch to receive the ball. He is also making more than double the amount of forward passes than last season. This could be attributed to him playing in a slightly deeper role this year, or the fact he was simply restricted from doing so last season by LVG.
Herrera is winning more tackles than at any time in his Manchester United career. He is also making over three times the amount of interceptions than he did last season, demonstrating his added energy levels this term under Jose Mourinho.
All in all, the stats back up my suspicions that Herrera is in fact playing better.
His qualities are being brought to the surface by Mourinho, who clearly rates the Spaniard as one of his squads most important players. As do I!
Do you agree? Is Herrera starting to justify his price tag? Should he be the next Manchester United captain? Leave us a comment, and please share this article on Facebook and Twitter.