Jurgen Klopp has suggested he is happy with the size of his squad ahead of the 'intense' 2020/21 campaign, despite admitting his side's preparations are far from ideal.
The Reds season only drew to a close one month ago following the coronavirus enforced delay, though after a very short break and a pre-season training camp in Austria, the Premier League champions return to action on Saturday in the Community Shield final against Arsenal at Wembley.
Liverpool's defence of their league title then begins on September 12, though not before preparations are further disrupted by an international break next week, and speaking at his pre-match press conference, Jurgen Klopp admitted that the build-up to the new campaign is far from ideal.
"If you would ask me how long I want to have time for a pre-season, I would say give me six weeks with a full squad, that would be great," he said. "We have, until the season starts, four weeks, which will be slightly interrupted by international duties and all that stuff, and now of course by this game.
"I would be very surprised if this would be the best game we play this season but we should be ready to fight for a result because the opponent has a similar situation. So, just give it a proper try, give everything you have and try to win it. That's all I can say about it. It's not a test game, it's not a friendly, it's a proper game – against Arsenal anyway. So we will try whatever we can."
Liverpool are operating on a tight budget this summer due to the financial effects of the pandemic, the club already pulling out of deals to sign Timo Werner and Jamal Lewis, while also being reluctant to meet Bayern Munich's relatively modest €30 million asking price for classy midfield technician Thiago Alcantara.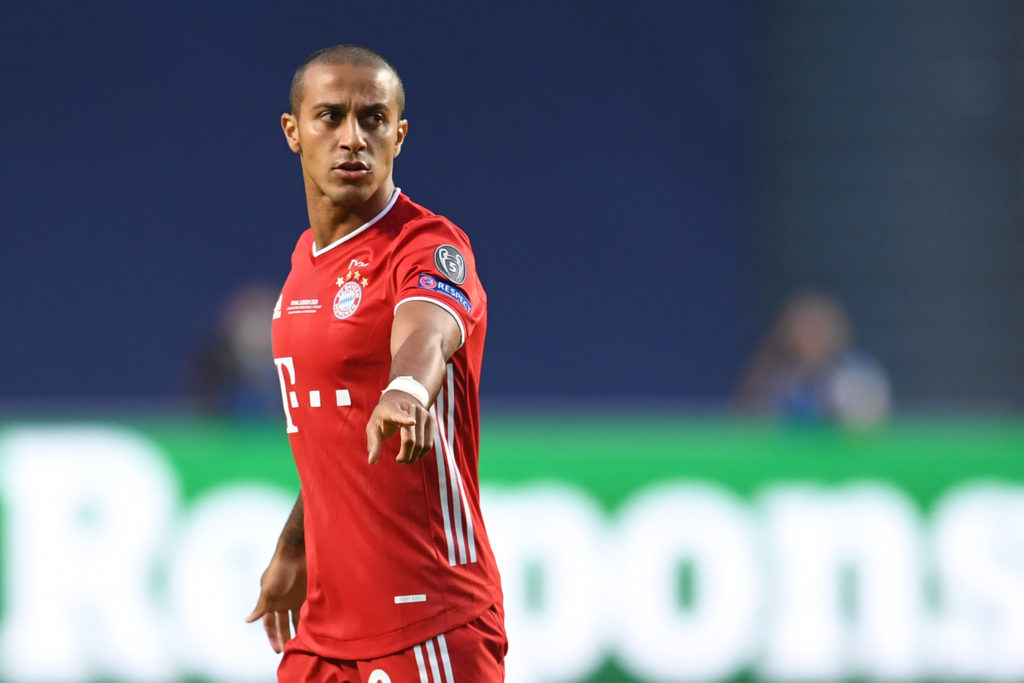 However, Klopp has suggested he is happy with the size of his squad at present, despite describing the upcoming season as 'intense' – the delayed start, combined with the need to have it wrapped up by the end of May due to the rescheduled European championships creating a condensed schedule
"Yes, numbers in the squad make sense," he said. "We have a big squad in the moment, a lot of young boys involved – they are all promising and all good. The number, the size of the squad, is absolutely OK in the moment.
"We have injured players and still can take a bigger squad tomorrow to London, but still some players will not be involved. That shows you the number is OK. Probably you talk about the quality and stuff like this, it's again nothing really to talk about. I
"I'm happy with what we have but we look constantly for improvements; the only difference is we look for improvements as well internally, how can we improve the players and how can we make them more ready for the specific occasions? That's what we do.
"Is the biggest squad ever the solution for next season? I don't know, we will see how it is. Nothing really to say.
"It will be intense, but nobody is moaning in the moment – we are all happy that we can play at all. It's just [that] two weeks' pre-season and then playing such an important game tomorrow is not ideal. But nobody would moan, because we are happy we can play these games. Then two weeks after that we start the season, then from these two weeks or 10 days, a lot of international players are away. Is that perfect? No, but nobody moans because we take it, we are just happy that we can play again. That's how we have to approach the whole season.
"The time is still uncertain for all of us – not only in football but in football as well. The situation is not sorted, that we are all living in, so we should not deal with it like it is sorted. We have to show responsibility for a lot of people in the world, in the countries and in the club, especially here. That's what we try to consider.
"We don't live in dreamland in the moment where we say, 'Come on, let's bring him in, let's bring him in, let's bring him in' and then we realise later on we have some other problems. We deal with our situation, which is a good one, but we deal with the situation already for a while and we try to, or think we should, do that for a bit longer. Because it's still uncertain out there and we should not forget that."
It is likely that transfer business from the Anfield outfit could have to be funded by player sales, the likes of Divock Origi and Harry Wilson having been linked with departures this summer.
Read – Five wonderfully entertaining Premier League teams that won f*ck all
See also – 'A lot of interesting players', but Klopp says Liverpool are uncertain over summer budget