After a disappointing campaign last season, we take a look at the potential strengths and weaknesses of the Gunners as they prepare for the new season.
Arsenal's 2016/17 season can be called one of the worst for Arsenal under Arsène Wenger. For the first time under Arsène's reign, Arsenal finished outside the top 4. Despite winning the FA Cup for a record 13th time, fans have been left questioning the ambition of the club and whether Wenger is the right man for the job anymore.
Throughout the season, protests against Wenger and the board were in full effect and fans were left distraught over an extremely disappointing season.
After the 16/17 season it was clear that signings were needed to help improve Arsenal and make them reach the next level to challenge for the Premier League. Arsenal have got business done fairly early this season.
Sead Kolašinac has been signed from Schalke on a free. A strong and powerful left back left back who made into the Bundesliga team of the season ahead of the likes of Alaba and Hector. Arsenal conceded 44 goals in the 16/17 season, which was the most goals conceded by a team in the top 6. If Arsenal are thinking about challenging for the title there will have to be significant improvement in the defensive side of things and Kolašinac will help bring that improvement.
Apart from that Alexandre Lacazette has been signed from Lyon for a fee of around £50 million and it seems as if Arsenal finally have a striker that can help them in their title push for the 17/18 season. In the Ligue 1, Lacazette has scored 27 goals in 30 games for Lyon, which shows how good he has been. His radar (by @FussballRadars) for the 16/17 season can be seen below.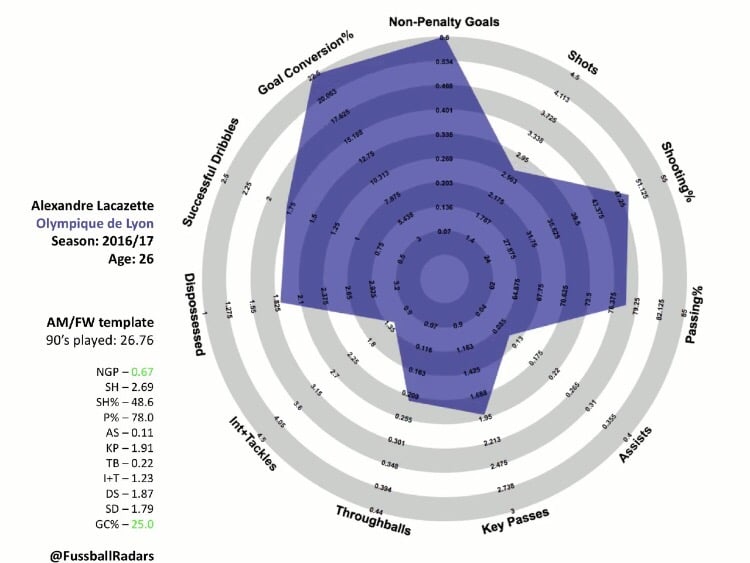 Arsenal getting their business done early is a rare sight for Arsenal fans. Even if they did get it done early it was mostly not followed up by any other world class signings. For example last season Arsenal signed Granit Xhaka early in the transfer window, however after that a true marquee signing was not made which left people doubting whether Arsenal really could challenge for that season. Arsenal signed players like Rob Holding and Lucas Perez however they were not enough to help Arsenal, as clearly seen in the 16/17 season.
In the current transfer window Arsenal have already managed to sign both Lacazette and Kolašinac and reports also suggest that they are trying to sign Thomas Lemar from Monaco.
Only qualifying for the Europa League could actually be the push that was needed for Wenger to be ruthless in the transfer window. Fans have been asking for signings and so far Arsenal have delivered which has left fans feeling a bit better after an extremely lacklustre season. Arsène is still looking to strengthen this Arsenal side and not make the same mistakes they have made in previous years by going into the season with somewhat of an incomplete squad.
Arsenal already have a distinct advantage over previous seasons. The fact that they've got their deals done early means that the new signings will have more time to settle in and adapt to Arsenal's system and style of play, however it's not a guarantee that they'll fit in straight away. Granit Xhaka was not fit into the system properly which meant he was disappointing for the first few games, later however he showed everyone how good he really was.
Now to address the question on everyone's mind; is next season going to be the same old for Arsenal?
So far fans are not confident enough to say that Arsenal will win the league but at the same time are excited for the new season because of the signings. Let's look at the strengths and weaknesses for Arsenal heading into the 17/18 season and analyse whether it really could be a title winning season for the Gunners.
As already mentioned the defence was a big problem for the Gunners. Despite the signing of a left back, a weak area for Arsenal last season, fans have been asking for the signing of a centre back if Arsenal do persist with a three at the back formation. This could be a weak spot for Arsenal in the upcoming season someone is not signed. Arsenal currently lack a libero type defender to play the as the central defender in a back three formation.
Apart from this it seems as if a central midfielder may be needed. Recent rumours suggest that Arsenal may be looking to sell Jack Wilshere and if that does happen Arsenal will be without sufficient cover in midfield. It however can be argued that a new midfielder is needed regardless of potential departures.
One of the main objectives for Arsenal in this transfer window has been to keep Alexis Sanchez and Mesut Özil, currently the latter looks as if he is staying but the former's future still somewhat hangs in the balance. For Arsenal to challenge it is necessary for them to keep their star players and on top of that make marquee signings that will help that title push.
Arsenal's strength this season will surely be in attack. With a possible front three of, Alexis-Lacazette-Özil, it's no surprise that fans are excited to see what next season offers.
A significant disadvantage for Arsenal next season could be playing in the Europa League. Games are played on Thursday nights and often long distance trips have to be made, this may result in players being fatigued for Premier League games on the weekend and it could affect Arsenal's push for a Premier League title massively. However if squad rotation is done properly, Arsenal could manage to challenge for both the Europa and Premier League.
It's been extremely long since Arsenal have gone into a season with a complete squad that is ready to challenge. Arsenal have looked positive all throughout this transfer window, they've been actively looking at players that would help improve the team. Even with the current signings there is an extremely high chance that further signings will be made, however it seems that if a new signing will occur, it will be according to the outgoing players.
Even if no further players are signed, fans will go into the season extremely excited and hoping for the best. However any new signing that will improve Arsenal will indeed increase fan confidence, going into the new season.