It's been quite a twelve months in football, so we've charted some of the maddest moments from the Premier League in 2018.
…as well as some bits from the World Cup, Champions League, and Copa Libertadores.
Sean Dyche Eats Worms, Or Does He?
What a way to start the year. The Burnley manager's former Bristol City teammate, Soren Andersen, claimed that he perhaps got his raspy voice from eating earthworms when he was a player.
Sean Dyche, for his part, denied actually eating any worms, clarifying that he only put them in his mouth, but never digested them, for the purposes of "banter". Phew, thank god he cleared that up, otherwise it would just be weird.
Leeds United Reveal New Badge
Whenever a club reveals a new badge these days, they have to brace themselves for the reaction on Twitter. Nothing could have prepared Leeds United for how the football world would react to their new badge last January.
Social media has rarely had such fun poking fun at something, endlessly taking the piss out of a logo that looked like it was taken straight out of the Pro Evolution Soccer video game.
The club stated that they chose the crest design after six months of research and consulting "10,000 people", but it turned out the design was a stock image.
Actually this new @LUFC Leeds United badge has potential for conflict resolution on and off the pitch… #altLeedsBadge pic.twitter.com/VDJTx5FdN6

— Richard Marks (@RichardMlive) January 24, 2018
West Brom Players Steal Taxi In Spain
You know how it is. You're on holiday, just got a McDonald's to take away after a big night out, but need a ride back to the hotel. Getting a taxi is far too much work when you can simply steal one.
Gareth Barry, Jonny Evans, Boaz Myhill and Jake Livermore were implicated in the taxi-stealing incident, taking it back to their hotel in the early hours of the morning. The vehicle was returned, the players apologised, and no further action was taken.
Alan Pardew blamed the whole debacle for the club's eventual relegation, which definitely had nothing to do with his awful management. No, sir. Reminder: Pardew won one game in 18 in the Premier League during his time at the Hawthorns.
Furious West Ham Fans Invade The Pitch
By the end of the calendar year things seem to have settled for the Hammers on the pitch, with Manuel Pellegrini smoothly guiding a talented group of players to mid-table safety.
Earlier on in the year however, tensions spilled over as the club's 2017/18 campaign threatened to end in disaster. Supporters, angered over the move from Upton Park (sorry, the Boleyn Ground) to the soulless London Stadium, turned on the owners, each other, and a corner flag.
The hierarchy hasn't changed, but we'll always have this perfect photo of Mark Noble trying to get a fan off the pitch. Too perfect.
Raheem Sterling Has The Temerity To Eat Breakfast
A number of media outlets don't really like the Manchester City star (I wonder why?), but the Daily Mail really nailed him here with their hard-hitting story on his breakfast habits. Pulitzer incoming, I'm sure.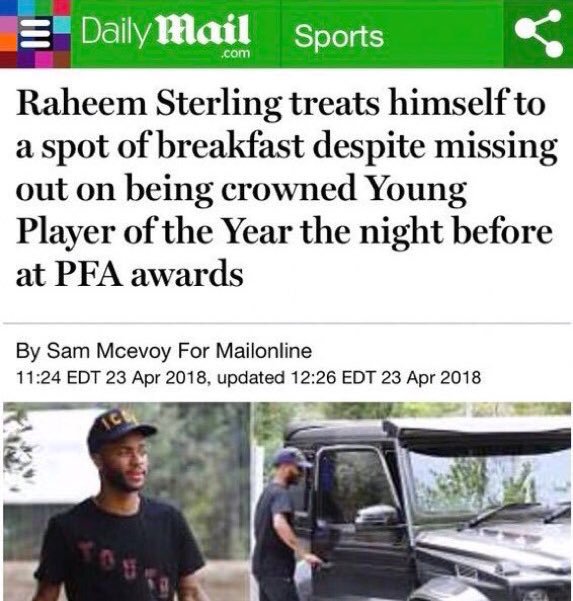 Adam Keyworth collated the tabloids' coverage of the England international in this superb Twitter thread earlier this year, highlighting the inherent racism in their coverage of Sterling. Some of the stories these outlets chose to run with are truly bizarre.
[Thread] a selection of times when our national press have chosen to run stories on Raheem Sterling.

1. The one where Raheem was 'tired'. pic.twitter.com/6K3cHu6r7T

— Adam Keyworth (@adamkeyworth) May 28, 2018
Gigi Buffon Loses His Mind
After conceding a late penalty to Real Madrid in the UEFA Champions League quarter-final, Gianluigi Buffon was sent off by referee Michael Oliver, who the Italian said committed a "crime against sportsmanship" in doing so.
The Juventus goalkeeper's outburst got even better, saying Oliver had a "rubbish bin" for a heart, before inevitably apologising for doing so.
https://youtu.be/nSPUvSm7jB0
Harry Kane 'Scores' 25th Goal Of The Season
In the hopeless fight with Mo Salah to win the Golden Boot, Kane claimed a goal for which Christian Eriksen was clearly the scorer. And yet, the dubious goals panel still gave it to him.
Unfortunately for the England international, Salah ended up with the most goals last season, and we all had to put up with scores of "Harry claimed it" jokes on Twitter for months on end.
Karius Makes A Right Tit Of Himself
Up there with the finest Champions League final goals, I'm sure you'll agree.
https://www.youtube.com/watch?v=Ioai8yk0zj0
Iranian Player Attempts Roly Poly Throw-In; Fails.
Never forget the name, Milad Mohammadi.
Man Gets Hit In The Face With Ball
 God bless you, Michy Batshuayi.
The Dele Alli Challenge
And let us never bring it up again.
Found this Video of me teaching my Sayang about how to do Dele Alli challenge. Dia tak reti buat sebab jari dia Cute ❤️😂 pic.twitter.com/AJ2q8wjCJy

— Arteezy (@MichaIramli) December 25, 2018
Denmark Field A Team Of Amateurs
Following a dispute over commercial rights between the Danish Football Association and the players, the squad chose to protest by refusing to play for the national team until they got the deal they wanted.
The DBU fielded a number of lower league and futsal players in their place, losing 3-0 against Slovakia in a friendly. The footballers won out in the end, but it's a shame we didn't get to see this play out longer.
Usain Bolt Scores First Goal Of Fledgling Football Career
Sure, it came in a meaningless friendly, but that's a pretty good finish, right?
Copa Libertadores Final Postponed Following Bus Attack
Billed as the most important game of all time, River Plate and Boca Juniors drew the first leg of the final 2-2. The second leg didn't take place as originally planned, due to violent scenes before the match. The bus carrying the Boca players was attacked by River supporters, and so the fixture was postponed until later that week, before being postponed again when the authorities came to their senses and realised players shouldn't be forced to play just a few days after being f*cking attacked.
The final eventually took place at the Estadio Bernabeu in Madrid of all places, with River winning 3-1 after extra-time.
Harry Redknapp Wins I'm A Celebrity
'Arry's greatest achievement since winning the FA Cup with Portsmouth in 2008.
Harry Redknapp just won I'm a celeb. Expecting a Tottenham parade soon…

— Bhavs (@bhavss14) December 9, 2018
Divock Origi Changes History
Bit pre-emptive of me? Maybe, but if Liverpool do win their first league title in 29 years this season, everyone will look back to his last minute goal in the Merseyside Derby. Ever since the moment Jordan Pickford had a brain fart, everything has been coming up Milhouse for the Reds, who sit on top of the table seven points ahead of reigning champions Man City.
And it'll probably be his only league goal this season. But without it, would Liverpool be in the position the find themselves going into 2019?